Ischia is an island in the Gulf of Naples, Italy. Known for its stunning scenery, hot springs and rich history, it is one of the most popular destinations in the country.
The island is about 46 square kilometres and has about 60,000 inhabitants. It consists of seven larger municipalities, each with its own character and charm.
Day trips Ischia: There are many excursions by boat from different cities like Naples: >>>> More info trips Ischia and booking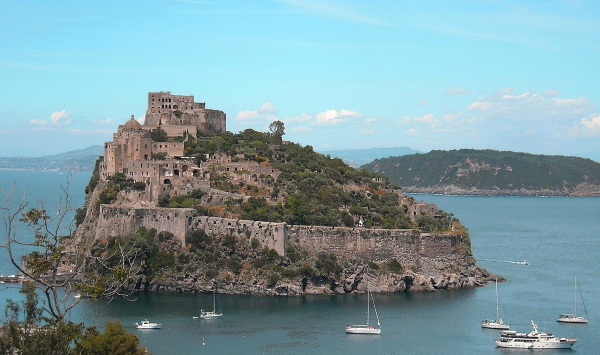 The name of the island is mispronounced by many German tourists, they say something like "Iskja". About 80 % of the many foreign tourists come from Germany. Many are ill and come for the healing , hot thermal waters.
One of the main attractions of Ischia are the hot springs, which are said to have therapeutic properties. There are several hot springs on the island that offer treatments and baths in mineral-rich water. These spas are particularly popular with travellers looking to relax and rejuvenate, and many offer additional services such as massages, saunas and steam baths.
Another main attraction of Ischia is the Aragonese Castle, a historic fortress on a small island connected to Ischia by a bridge. The castle dates back to the 4th century BC. It is a popular destination for tourists who want to explore the history of the island and take a look at the surrounding area.
The beaches of Ischia are also a big attraction for tourists. The island has many beautiful sandy beaches and numerous rocky coves and cliffs that are popular with divers and snorkellers. The most popular beaches on the island include Citara Beach, San Montano Beach and Maronti Beach.
Ischia is not only known for its natural beauty and rich history, but also for its cuisine and wine. The island is home to many traditional Italian restaurants and cafés serving a variety of local dishes such as seafood pasta, Neapolitan pizza and lemon liqueur. Wine lovers will also appreciate the local wineries and wine cellars that produce wines from different regions, including the famous wines of Ischia such as Forastera and Biancolella.
Ischia is easily reached from Naples by ferry or hydrofoil.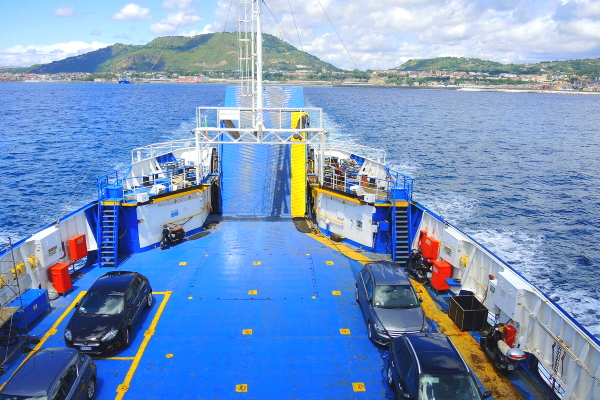 There are also several flight connections from various cities in Italy and Europe. Once on the island, visitors can explore the many attractions on foot, by bike or by car, with a variety of accommodation to suit all budgets and tastes.
Overall, Ischia is a must for lovers of sun, sea and stunning scenery. Whether you want to relax and unwind, explore the island's rich history or enjoy good food and wine, Ischia has something for everyone.
Ischia Thermal Baths
Ischia is a volcanic island in the Gulf of Naples, Italy, known for its thermal baths. The thermal waters on the island are rich in minerals and have therapeutic properties, making it a popular destination for those seeking relaxation and rejuvenation.
Day trips Ischia: There are many excursions by boat from different cities like Naples: >>>> More info trips Ischia and booking
There are numerous thermal baths and spas on the island, each with its own special features and benefits. Some of the most popular thermal baths on Ischia are:
Negombo Thermal Park: a tropical-style thermal park with several pools filled with thermal water and a wide range of spa treatments. Mud baths, massages and hydrotherapy sessions are also available.
Castiglione Thermal Park: This thermal park is set in a lush garden and offers a number of pools filled with thermal water, as well as a range of spa treatments and massages.
Giardini Poseidon Terme: This thermal park offers a series of pools with thermal water as well as a range of spa treatments and massages.
Terme di Sorgeto: This thermal spa is located in a natural bay and is famous for its hot springs that flow directly into the sea.
Terme di San Montano: This spa offers a range of wellness treatments including hydrotherapy, massages and mud baths.
Ischia also has a number of hotels and resorts offering thermal baths and spa treatments, making it easy to combine a relaxing holiday with the therapeutic benefits of thermal waters.
Overall, Ischia's thermal baths offer a unique and rejuvenating experience that is perfect for anyone looking to relax and rejuvenate. Whether you are looking for a luxurious spa experience or simply a natural hot spring to bathe in, Ischia has something for everyone.
Ischia climate
The average number of sunny days on the island is about 300 days per year. However, the number of sunny days varies depending on the season and local weather conditions.
Ischia, a volcanic island in the Tyrrhenian Sea off the coast of Italy, has a Mediterranean climate. This is because the island has warm, dry summers with temperatures between 20 and 30 degrees Celsius and mild, dry summers with temperatures between 10 and 20 degrees Celsius. It means experiencing a wet winter. 70 degrees Celsius). Most of the precipitation on the island comes in the form of rain during the winter months.
Ischia Ferries
Ischia is an island in the Tyrrhenian Sea off the coast of Italy, accessible by ferry. Several ferry companies offer regular services between the mainland and Ischia, with the main ferry port located in Naples.
Ferries from Naples to Ischia usually take around 40-60 minutes and run regularly throughout the day. Other ferry ports on the mainland such as Pozzuoli and Mergellina also offer connections to Ischia.
In addition to the regular ferry services, there are also high-speed hydrofoils between Naples and Ischia. These are faster than the regular ferries and can take you to the island in just 25 minutes.
Ischia's ferry system is a convenient and affordable way to reach the island and offers a great alternative to flying. We recommend checking the schedules and prices of the various ferry companies in advance to ensure you reach your desired destination on time and at the best possible price.
Another well-known island nearby is Capri.
Ischia Beaches
Ischia is a volcanic island in the Tyrrhenian Sea off the coast of Naples, Italy. It is known for its hot springs, spas and beautiful beaches. Popular beaches on the island are:
Maronti Beach:
A long sandy beach with clear blue waters.
Sitara Beach:
A picturesque beach surrounded by lush vegetation and hot springs.
Sorjet Beach:
A small beach where hot water flows into the sea.
Sant'Angelo Beach:
A beautiful sandy beach surrounded by cliffs and clear blue water.
These are just a few examples. Ischia has many other beautiful beaches.
Ischia Food
The cuisine of Ischia in the Gulf of Naples is characterised by the use of fresh, local ingredients such as seafood, vegetables and herbs, as well as influences from the neighbouring regions of Campania and Naples. Ischia's cuisine is characterised by simple cooking methods that bring out the flavours of the ingredients. Pasta with fresh tomato sauce, grilled seafood and rabbit stew are popular. The local cuisine is also rich in specialities prepared with ingredients found only on the island, such as western desserts made from chestnut flour or sake made from lemons. Ischia is famous for its white wines, made from the local grape variety Forastera. The island's winemaking traditions date back to Roman times and the local wines are known for their fresh, crisp character with notes of citrus and green apple.
Ischia wine
Ischia's most famous wine is Ischia Bianco DOC, made from 100% Forastera grape grown on the island. In recent years, there has been a resurgence of interest in the local winemaking tradition, with small family-run wineries producing high-quality wines that reflect Ischia's unique terroir. Other notable wines of the island include the sweet wines Ischia Rosso DOC and Ischia Passito DOC.
Ischia wildlife
Ischia is an island in the Gulf of Naples, Italy, whose fauna is very diverse and unique due to its location in the Mediterranean Sea. The island is home to a variety of bird species, including woodpigeons, robins and robins. The waters around the island are also home to many different species of fish, including bream, anchovy and mullet. The island is also home to a small number of wild mammals, including European rabbits, European hedgehogs and the endemic ischiaris. The island's vegetation, including chestnut and oak forests and Mediterranean scrub, is an important habitat for many of these species. However, some species, such as Ischiaris, are threatened by habitat loss and other environmental factors, highlighting the importance of conservation measures in the region.
Ischia History
Ischia, an island in the Gulf of Naples, Italy, has a rich history dating back thousands of years. Archaeological findings indicate that the island was inhabited from Neolithic times until the 8th century BC. It was colonised by the Greeks in the 8th century BC. During the Roman Empire, the island was known for its hot springs, which were said to have therapeutic properties, and became a popular holiday destination for the wealthy. In the early Middle Ages, Ischia was ruled by the Byzantine Empire and later by the Norman Kingdom of Sicily, before becoming part of the Kingdom of Naples. Throughout its history, Ischia has been characterised by its position on the Mediterranean, a crossroads of cultures and a centre for trade and commerce. From the 19th to the early 20th century, the island experienced significant growth and modernisation, and the island became a single entity.
Day trips Ischia: There are many excursions by boat from different cities like Naples: >>>> More info trips Ischia and booking