The Isola Madre (Island of the Mother) is an island in Lago Maggiore in the north of Italy. Like two other Borromean islands (Isola Bella and Isola Superiore), the island is visited by many tourists.

The largest part of the island consists of a botanical garden. Many rare plants from all over the world can be found here. The mild climate of Lake Maggiore allows subtropical and tropical plants to grow here. These include, for example, various palms, citrus fruits and even bananas. Well-known beyond the area are, among others, the various wisteria (blue rain) and the cedars.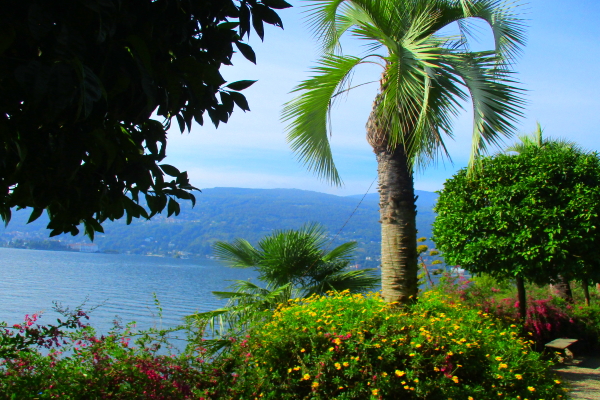 The 16th century palace is also a great sight on the Borromean island of Isola Madre in Lake Maggiore. You can see great tapestries, furniture and paintings next to the grandiose palace inside the building. The building, which is now open to the public, dates from the 16th century. The Palazzo Borromeo was built by the wealthy Borromeo family. Today's botanical garden was actually the palace's garden, you could also call it a villa,
Today, the palace with botanical garden covers about 90 percent of the Isola Madre. Those who do not want to pay an entrance fee will therefore only see a small part of the island, also with flowers, palms and other plants. We think that a visit to the palace and the botanical garden is worthwhile. The entrance fee is 15 euros per person.
All our articles about Lake Maggiore
Lago Maggiore: Our main article about the lake
3 Boromean Islands: The archipelago, which is visited by a lot of tourists
Island Madre: Island with great botanical garden
Island Bella: The most visited island
Island Pescatori: Island with houses and many restaurants
Town Verbania: The largest city on the lake
How to get to Isola Madre
Almost everyone who comes to Isola Madre from Stresa on the mainland has a ticket for all three Borromean islands that are open to the public (Madre Island, Superiore Island and Bella Island). This 3-island ferry ticket can be purchased in advance online at this link.
The boats run approximately every 30 minutes between 9 am and 6 pm daily. They run a round trip from Stresa over the three islands and back to Stresa. A round trip costs 15 euros. No part of the journey is longer than 10 minutes. If you want, you can also visit the botanical gardens on Isola Madre (with palace) and Isola Bella.
In the public area (no entrance fee) there is a restaurant and a bar on Isola Madre (almost directly at the ferry pier). There is also a public toilet here.
All info and prices are from 2022 and 2023