Many people spend their holidays in the Naples region or in Rome. Day trips by bus to one of the most interesting sights in the world – ancient Pompeii – are extremely popular. On this page we present some tours, which can be booked before the trip on the Internet.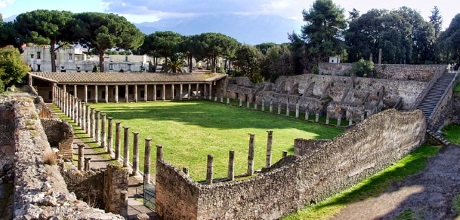 General information about bus tours to Pompeii 2023
The day trips presented below are offered on Getyourguide.com on the Internet. This is a very large and well-known website in Britain. Before booking you can read some reviews on Getyourguide. The customer evaluations are quite meaningful and objective after our experience. In our opinion, the overall rating is important. Bus tours that have well over 4 out of 5 points are usually very good. We have only selected such offers for the year 2020.
Booking via Getyourguide.com is quite easy. With most routes applies: You can print out a Voucher or show this simply on the Smartphone. With most offered trips with Getyourguide a possible cancellation is handled quite generously. The more precise conditions are included with each tour.
Our tip:

Admission prices and tickets for Pompeii 2023
The tickets are not quite cheap, but for such a world-famous sight they are not overpriced. Children under the age of 18 are free (ID will be checked). Many visitors buy Pompeii tickets in advance on the Internet, among other things to avoid long queues at the entrance. There is a good website for the tickets: Click here
You should pay attention to what is included in the price of the respective excursion (tickets, food, etc.). It is certainly no mistake to take a bottle of water and maybe something to eat on a day trip in the heat of Italy. Of course you can also buy drinks in Pompeii, but not necessarily very cheap everywhere.
Tour 1: From Naples or Sorrento to Pompeii (half day)
This tour for the 2019 season is offered both by Naples and by the tourist resort of Sorrento. You take the bus to Pompeii. There you have the opportunity to take a free guided tour through the ruins of Pompeii or to go on your own through the excavation. The entrance ticket for Pompeii is already included. As far as we know, the tour is in English. In Naples you can also be picked up directly from the hotel. This day trip has very good ratings on the Internet. Further information and booking
Tour 2: From Naples to Pompeii and the Amalfi Coast (full day)
About like Tour 1 from Naples above, but additionally to great Amalfi Coast. The conditions are a bit different with this one. Here the entrance fee for Pompeii is not included in the price, but a lunch. This excursion is also well rated by participants.
Further information and booking
Tour 3: From Naples to Pompeii and Vesuvius Volcano (full day)
This day trip to Pompeii is the most frequently booked and we liked it very much. Partly like tour 2 above, but this bus tour goes as a combination to Pompeii and to Vesuvius. At the top you can go to the volcano crater and have a look inside. We think that Vesuvius and Pompeii are the two big sights in the region, so this trip is our top recommendation for the year 2020. This trip includes both entrance tickets (also Vesuvius costs entrance fee!) and lunch. Further information and booking
Tour 4: From Rome to Pompeii (all day)
From Rome it is of course much further to Pompeii, so the day trips to Pompeii from Rome take a little longer. A good bus tour to Pompeii from Rome including a detour to Naples can be found on this page: Further information and booking
Arriving by car: Only Pompeii entrance ticket
A ticket for Pompeii can be bought in advance on the Internet. This has the great advantage that you do not have to queue at the very long queue at the cash desk at the entrance of the excavation. With such tickets with preferential entry (English: Skip-The-Line-Tickets) you save a lot of time: Further information and booking
Arrival by car: admission ticket including guided tour
This can also be booked. The tour is in English, but very good and detailed. Duration: 2 hours. Almost all participants are more than satisfied. Further information and booking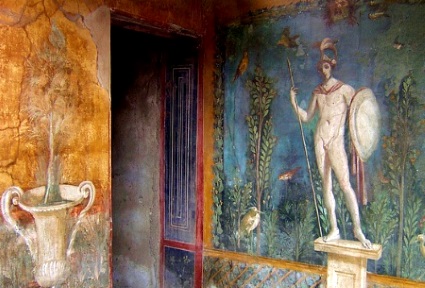 Enjoy your holiday! For us, Pompeii is one of the biggest sights in the world.
Our articles about Pompeii and Herculaneum
Pompeii information (like overview, directions, admission fees, opening hours…)
Pompeii baths (thermal baths)
Brothel Pompeii (Brothel)
Theaters in Pompeii (the 3 big theaters)
Herculaneum: The other great ancient city that sank during the volcanic eruption
Corpses Pompeii: All about Corpses and Dead in Pompeii and Herculaneum