Trieste is a large city in the north-east of Italy on the border with Slovenia. It is the capital of the small Italian region of Friuli-Venezia Giulia. Trieste has just over 200,000 inhabitants. The city area borders directly on Slovenia. The neighbouring city on the other side in Slovenia is Koper. Trieste has a beautiful city centre with many sights. The city lies directly on the sea on the Adriatic, it is the northernmost larger city on the Mediterranean.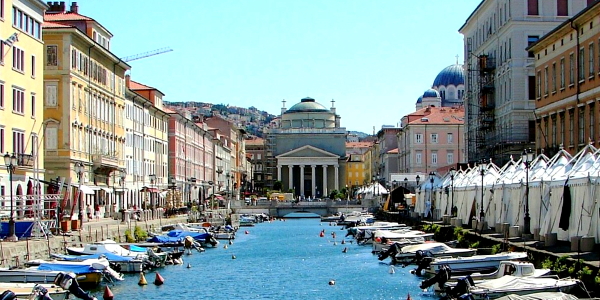 Many cultures meet in Trieste. This is reflected in the architecture and sights in the city. The area used to belong to Austria for about 500 years. The border with Slavic Europe is only a few kilometres away. Nevertheless, Trieste is first and foremost Italy.
A major sight is the Grand Canal of Trieste. It is reminiscent of Venice, and not only because of its name. (see picture above).
The most beautiful and best-known square in the centre of Trieste is the Piazza dell'Unita d'Italia (Square of the Unity of Italy) with the Trieste City Hall (Palazzo del Municipio, see picture below). In front of the town hall is the famous fountain "Four Continents".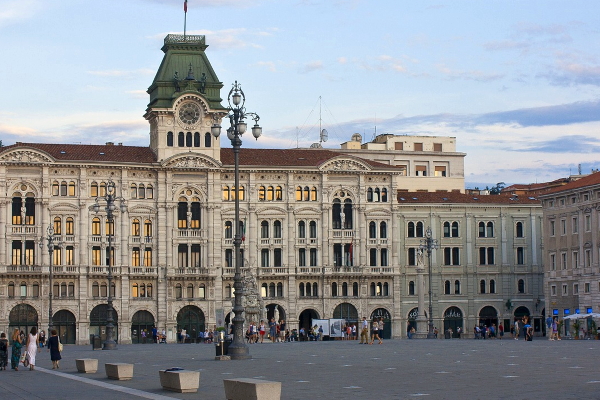 Very many tourists in and around Trieste are from Austria. The big cities of Villach and Klagenfurt are less than 100 km away from Trieste. Trieste used to belong to Austria. This can still be seen today, for example, in the large, old Viennese-style coffee houses.
Trieste has attracted many writers for centuries. The most famous is the Irishman James Joyce, who lived in Trieste for about 10 years at the beginning of the 20th century.
You should also spend a few hours just walking around the city, Trieste has a great atmosphere and many small sights. There are many good restaurants with mostly Italian cuisine, lots of fresh fish and seafood.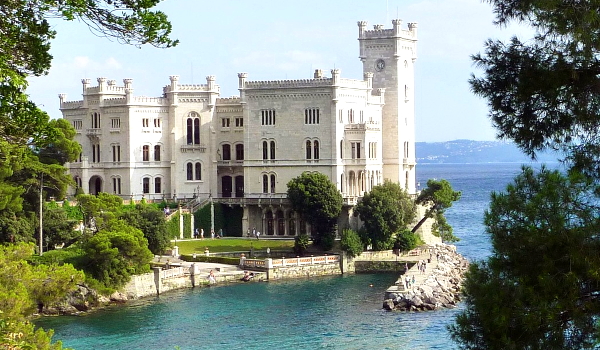 Another must-see is the Miramare Castle. It is directly on the sea, about 5 kilometres north of the city centre of Trieste. It was built around 1860, during the Austrian period.
How to get to Trieste
The major airport of the Friuli-Venezia Giulia region is about 30 km outside the city. From Austria, Trieste is easily reached by road; if you are coming from the east of Austria, it might be a good idea to take a shortcut through Slovenia. Train connections to and from Austria are rather poor. From Villach it takes 3 hours, you usually have to change trains in Udine and there are only 3 connections per day.
There are no trains from Trieste to Slovenia. However, there are buses from Trieste Centrale station to Koper station in Slovenia every hour or so during the day.
There are many trains from Trieste to Venice along the coast and towards Udine in the Alps. Most are regional trains.
Croatia:  http://croatia-guide.info/