The Borromean Islands (Italian: Isole Borromee) are a group of five islands in Lake Maggiore in northern Italy. Three of the islands can be reached by passenger ships. Since there is a lot to see on the islands, many hundreds of tourists visit the great inland islands in the large lake Lago Maggiore every day. A nice day trip.

The three islands that can be visited by tourists on public boats are between 3 and 8 hectares in size, the other two Barromean islands are very small (less than 0.5 hectares). Most ferries to the islands depart from the centre of the well-known spa town of Stresa. However, there are also less frequent boats from other places around Lake Maggiore such as from Verbania directly to the islands….
Ferries to the islands
From Stresa, smaller boats leave every 30 minutes in a circular route to the 3 islands. The following route applies: Stresa – Isola Madre – Isola Superiore – Isola Bella – Stresa. So you visit the island Madre first and then take a later ferry to Isola Superiore and so on. Theoretically, you can also visit only one island, but almost everyone buys the ticket for all three islands. No part of the journey takes more than 10 minutes, and the boats are quite fast. You can sit outside and inside.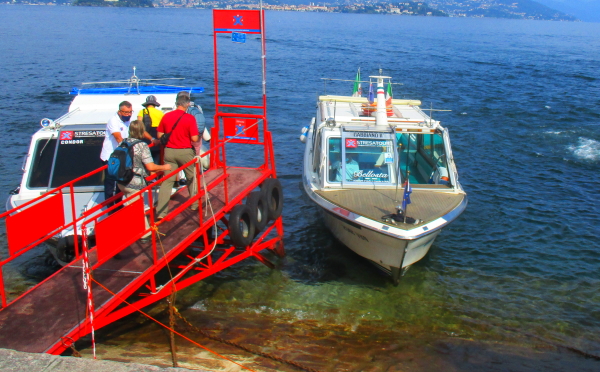 When there is a lot of traffic, sometimes 2 boats leave at once (see picture).
Timetable boats Borromean Islands from Stresa 2023: The ferries leave every 30 minutes from about 9 to 18:00. If you visit all 3 islands for only 30 minutes each, you will be back in Stresa after about 2 hours. Of course it makes sense to stay longer than 30 minutes on the islands. In very bad weather (rare) the ferries cannot run.
Fare ferries Borromean Islands from Stresa 2023: A ticket for a round trip costs 15 euros for adults. This includes 4 single trips, to the islands in a fixed order (see above) and the return trip. To this must be added, if desired, the entrance fees for the great gardens on Isola Madre and Isola Bella. The majority of island visitors visit the gardens.
Parking Stresa: There is a large car park in the centre of Stresa, near the ferry departure point. You pay a parking fee of 1.80 euros per hour (as of September 2022). A few hundred metres further along the shore there are also free parking spaces. However, they are often all occupied.
All our articles about Lake Maggiore
Lago Maggiore: Our main article about the lake
3 Boromean Islands: The archipelago, which is visited by a lot of tourists
Island Madre: Island with great botanical garden
Island Bella: The most visited island
Island Pescatori: Island with houses and many restaurants
Town Verbania: The largest city on the lake
The individual Borromean Islands
Isola Madre: Translated: Mother Island. Green island with a large botanical garden, which is very well known. There is a restaurant with bar and a public toilet. Without going into the gardens you can just walk along a path, about 200 metres and stop at the restaurant. The gardens are worth visiting despite the high entrance fee (about 15 euros).
>>> Tickets for the Botanical Gardens and the Palace of Madre Island are available online at this link
Isola Superiore: Translated: Upper Island. The name Isola dei Pescatori (Fishermen's Island) is heard about as often. This island is smaller than the other two and is almost completely built up. About a dozen restaurants, mainly fish and pizza. Inside the island, you feel like you are in the old part of a city. There are also shops selling leather goods, jewellery and souvenirs, and a small supermarket.
Isola Bella: The main tourist island. About a mixture of the upper two Barromean islands. On the one hand there are great gardens, the other half consists of old houses, restaurants etc.
There are two more Barromean islands. These are very small. The island of Scoglio della Malghera (see picture below) can be reached by ferry between Isola Superiore and Isola Bella (only a few hundred square metres in size).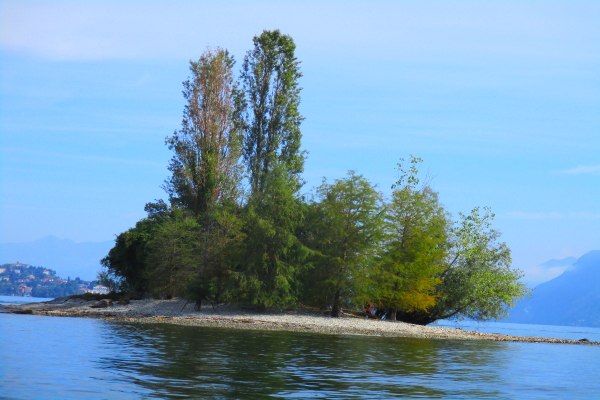 The Barromean island of Isolino di San Giovanni off the east coast of Lake Maggiore, which is only about 4,000 m² in size, is still missing. It is privately owned and cannot be visited.