Milan is the largest city in northern Italy and, after Rome, the largest and most important city in the country. The greater Milan area has more than 3 million inhabitants, almost as many as Rome. Milan is the economic capital of Italy. There is a saying that there are as many banks in Milan as there are churches in Rome.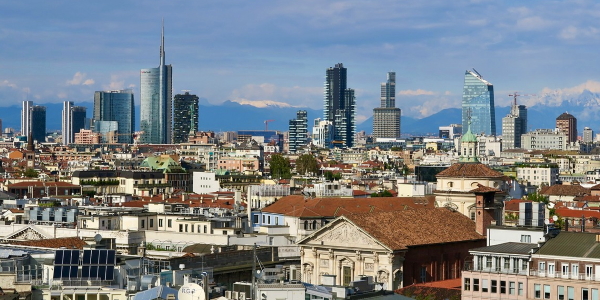 View from the cathedral towards the Alps and the financial centre
Sights of Milan
Tourism is also booming in Milan. The most important sight is the Milan Cathedral. But tourists also visit the Teatro alla Scala. It is the most important opera house in the world, even ahead of the Teatro la Fenice in Venice.
Ticket Milan Cathedral: There is a total ticket for the cathedral / access to the roof / cathedral museum and crypt (cathedral cellar). There is only one sales point on site opposite the cathedral. The queues there are often extremely long. Therefore, be sure to buy your ticket online beforehand:  The Dom Tickets are available on this website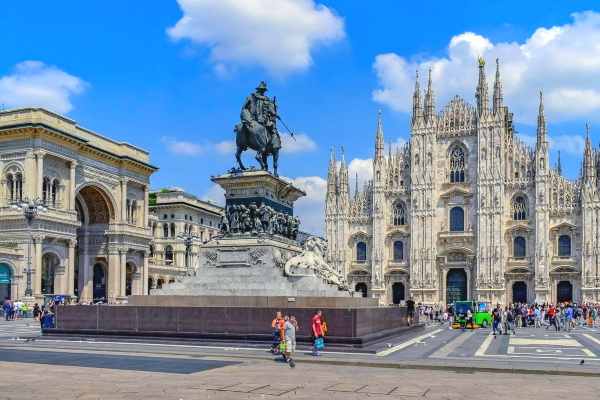 Many visitors also come to Milan because of a painting. It is Leonardo da Vinci's painting The Last Supper, which measures over 9 x 4 metres. After the Mona Lisa (also Da Vinci), it is probably the second most famous painting in the world. The painting is a mural in a small church near the city centre of Milan: Our page about the painting Last Supper (Where to buy tickets? Info about the painting by Da Vinci).
The surroundings of Milan, not far from the Alps, are also beautiful. Many city travellers make an excursion to the Upper Italian Lakes. Como on Lake Como is just over 40 minutes by train from Milan.
Milan is also a world-famous shopping city. Many famous designers, fashion designers and the like have set up shop in Milan. All luxury brands have a shop in the city centre. The first shopping centre in the world was opened in Milan around 1870, and one entrance is directly on Piazza Duomo. The Galleria Vittorio Emanuele II is still one of the most beautiful shopping arcades.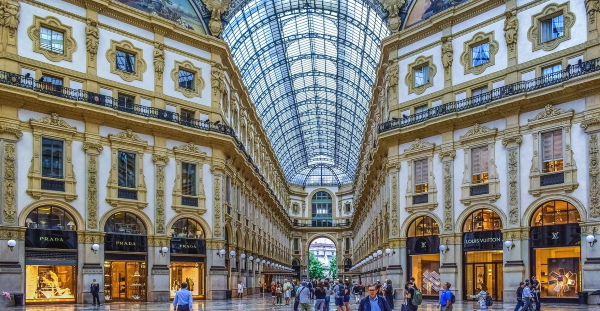 Connections Milan
Superfast trains connect Milan with Turin, Bologna, Florence and Rome. Other long-distance trains run, for example, to Switzerland, Genoa and the Adriatic Sea, such as via Verona to Venice or via Bologna to Bari via Rimini. There are also motorways from Milan in all directions.
Bus Milan Airport: Malpensa Airport is far from the city, travel time almost an hour. Taxis are very expensive. We recommend the airport bus. You can book this cheaply online in advance. You can find more information and tickets on this link.