Corniglia is the third, i.e. the middle, of the five villages of the Cinque Terre. It has one major difference from the other villages: it is not by the sea, but up on the mountain.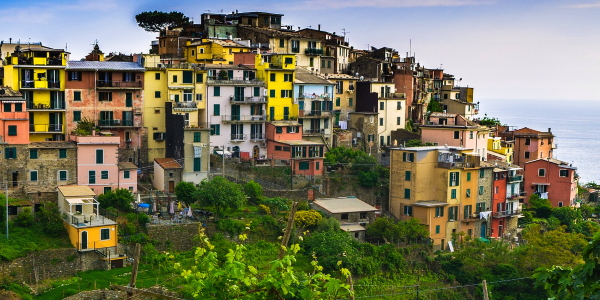 Orientation Corniglia
The train station is down by the sea. In no other town in the Cinque Terre is the train station so far from the railway station. It's about a 15 to 20 minute walk. The path goes steeply upwards. Almost 400 steps, very strenuous especially in the heat.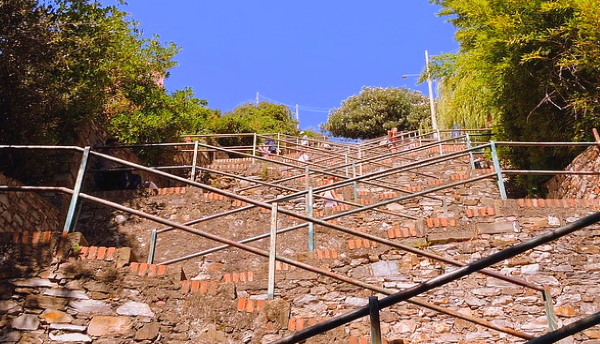 Fortunately, there is a bus between the train station and the central square of Corniglia. It goes back and forth every 15 minutes in both directions during the season (journey time about 5 minutes). Every quarter of an hour from the train station down to the train station and sometime in between from the train station to the village. If you have the Cinque Terre Card, you can use the bus for free.
Neighbouring villages are Vernazza to the north and Manarola to the south.
Our tip:

Day trips Cinque Terre
There are bus excursions to Cinque Terre from many towns in the surrounding area. Here are a few good offers that have been praised and rated highly by our clients:
>>>  Very good tour by bus from Florence to Cinque Terre: Click Here
>>>  Very good daily tour by bus from Pisa to Cinque Terre: Click Here
>>>  Great bus tour from the city of Milan to Cinque Terre: Click Here
>>>  Very good tour by bus from nearby La Spazia to Cinque Terre: Click Here
The village of Corniglia
Like all the villages of the Cinque Terre, it is a beautiful village. It is the smallest of the five villages. As it is up on the mountain, you have a great view from many places. Not everything in Corniglia is tourism. You can still see farming, chickens, etc. Since it is on the hill, there are farmers and less fishermen as in the other villages.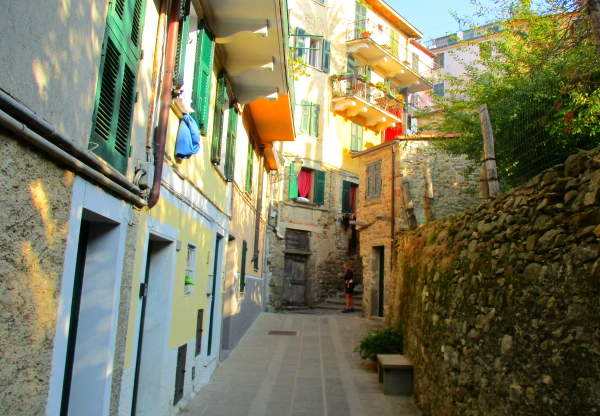 The prices in the restaurants are ok. Many things up here are a bit simpler. The church in the upper part of the village is also beautiful. The entrance door is usually open. The church of San Pietro is large for such a small village and dates from the 14th century (Gothic style).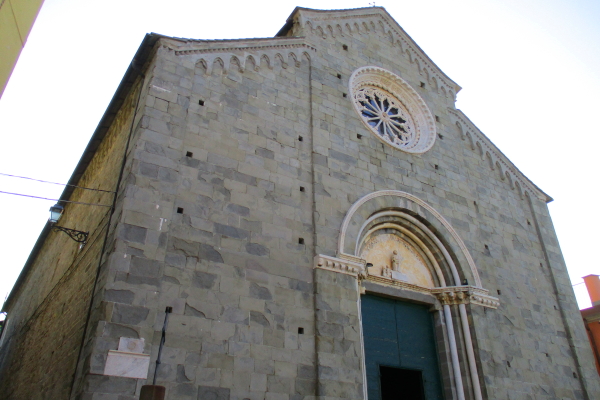 At the top of the village is a ruin of an old castle.
If you want, you can also walk a little outside the village, for example in the vineyards. White wine is the main wine grown in the area, and you should try it in Corniglia.
In Corniglia you will also find several guesthouses and room rentals. Not a bad choice if you want to have a quieter time in the Cinque Terre.
You are not allowed to enter the village by car. There is a small beach between Corniglia and Vernazza, where many people swim nude (naturist).
All our articles about the 5 villages of the Cinque Terre
Cinque Terre: Our main article about the Cinque Terre
Town La Spezia: The big city near the Cinque Terre