Lake Maggiore is a lake in the north of Italy. The northern tip of the lake belongs to Switzerland. The western shore of the lake belongs to the Italian region of Piedmont (large city of Turin), the eastern shore to Lombardy (large city of Milan). In this article you will find an overview of the lake.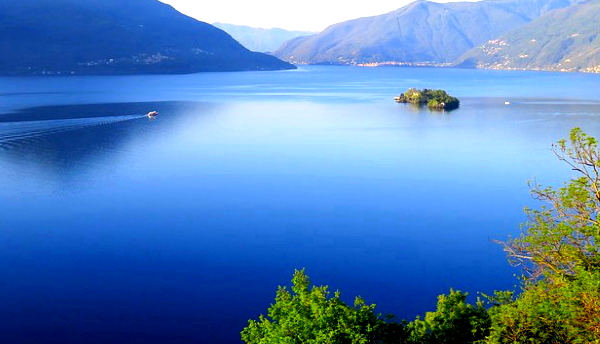 Figures Lake Maggiore
Slightly more than 80% of the lake is in Italy, just under 20% in Switzerland.
With 212.5 square kilometres, Lake Maggiore is the second largest lake in Italy, only Lake Garda is larger (370 km²). The third large lake in northern Italy, Lake Como, is considerably smaller than Lake Maggiore at 146 km².
The circumference of Lake Maggiore is about 170 kilometres, once around the lake by road is almost 200 kilometres.
 New: eSIM for travelers – Fast and cheap online with your cell phone in Italy
In the past you had to buy a sim card after your arrival in Italy to go online with your cell phone. These times are over. You can buy a new eSim beforehand on the Internet. Cheap packages for day, week and month with many gigabytes.
                   >>>>>  More info and booking
All our articles about Lake Maggiore
Lago Maggiore: Our main article about the lake
3 Boromean Islands: The archipelago, which is visited by a lot of tourists
Island Madre: Island with great botanical garden
Island Bella: The most visited island
Island Pescatori: Island with houses and many restaurants
Town Verbania: The largest city on the lake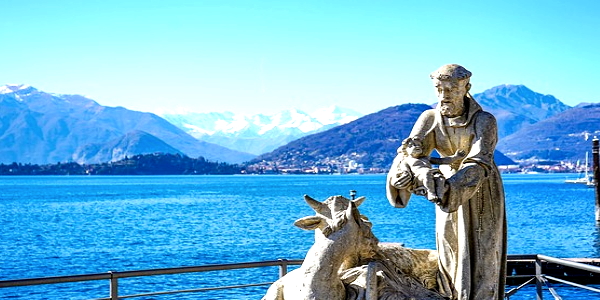 The water level of Lake Maggiore is 193 metres above sea level. This makes the shore the lowest point in Switzerland.
Lake Maggiore has a length of about 65 kilometres (north to south) and a maximum width of about 10 kilometres. It therefore has an elongated shape. The old German name of the body of water is therefore Langensee.
The deepest point in the lake: Lake Maggiore has a depth of 372 metres.
About 25 passenger ships ply the waters. Because of its elongated shape, travelling by boat is a great shortcut in many places.
The largest town on the lake is Verbania, with a good 30,000 inhabitants.
Islands on Lake Maggiore: We know of eight islands. If you know of more, please send an e-mail to info@italien-nord.de . (see below)
Island of Lake Maggiore
Borromean Islands: These are 5 islands, 3 of which are visited daily by hundreds, often thousands, of tourists. These are Isola Madre (8 hectares, about 5 inhabitants), Isola Bella (6 hectares; 35 inhabitants), Isola Superiore, also called Isola dei Pescatori about 3.5 hectares and 55 inhabitants). The other two Borromean islands, Isola di San Giovanni and Scoglio della Malghera, are very small and cannot be visited by tourists on public passenger boats.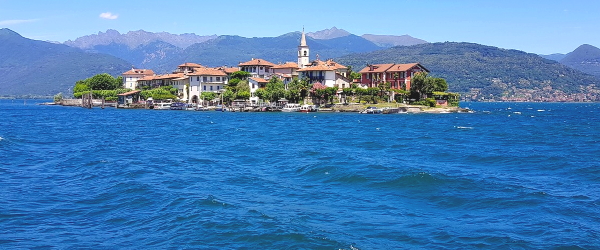 Brissago Islands: These two islands are in the Swiss part of the lake and are also very famous. They are Isola di Sant' Appollinaire (botanical garden worth seeing) and the small island Isola Piccola.
Partegora Island: This small island is not far from the eastern shore of Lake Maggiore and is a bird sanctuary.
So there are probably 8 islands in Lake Maggiore, 6 in Italy and 2 in Switzerland.
Names of Lake Maggiore
The ancient Romans called the body of water Lacus Verbanus. The term Lago Verbano is also used in Italian. The German name (hardly used today) is Langensee. In German-speaking Switzerland, however, you still hear this. Directly on the lake, on the eastern shore, you often hear Lago Maggior as the lake name (dialect of Lombardy).
By the way, Lago Maggiore translates as "Bigger Lake".