Bolzano is the German name of the capital of South Tyrol. Although South Tyrol is in Italy, Deutch is still predominantly spoken. The city is called Bolzano in Italian. With a population of around 105,000, Bolzano is similar in size to the other large city of Trento in the Trentino-South Tyrol region.
Bolzano is located in the southern Alps. As the city lies very deep in the valley of the River Adige, with the centre at about 260 metres above sea level, the climate in Bolzano is already Mediterranean warm.
While in 1900 about 90% of the people of Bolzano spoke German as their mother tongue, today it is only about 25%. The clear majority (74%) speak Italian. In many other towns in South Tyrol, even more people speak German. Many people in Bolzano speak both languages very well.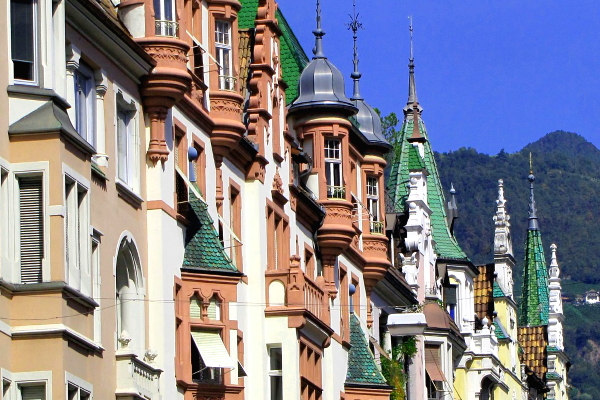 Sights of Bolzano
Bolzano has a beautiful old town. Especially the mixture of Austria and Italy in the city is interesting. The central square is Waltherplatz, named after Walther von der Vogelweide. Within 100 to 200 metres of this square are all the important buildings of Bolzano, such as the town hall, the cathedral or the railway station. The Maria Assunta Cathedral is a great sight to see.
But the big sight in Bolzano is the Ötzi. The famous ice man is the big attraction in the South Tyrol Museum of Archaeology. The museum is now popularly known as the Ötzi Museum. Many thousands of people come to Bolzano just to see Ötzi. The 5300-year-old mummy was found by hikers in 1991 and is now on display in the museum. You can also see his clothes and equipment in the Ötzi Museum. The South Tyrol Museum of Archaeology is located in the north-western centre of Bolzano, within easy walking distance.
Many tourists come to Bolzano because of its surroundings. Bolzano lies in a deep valley in the middle of the Alps. It is a winter sports area. In summer, many hikers come. But you can also visit the beautiful surroundings of Bolzano by car, bus, train or cable car. We recommend a ride on the Rittner cable car from Bolzano to Oberbozen. Wonderful view of the city from above.
How to get to Bolzano
From Germany (e.g. Munich) and Tyrol (Austria) you can reach Bolzano via the Brenner Pass. Both the Brenner motorway and the main line of the trains between Austria and Italy run largely parallel. You arrive in Bolzano from Innsbruck via the Brenner Pass. Continue south via Trento to Verona. Here you can continue south to Bologna and Rome. But you can also drive east (Venice) or west (Milan) from Verona. This applies to motorway and main railway lines.
Good video
30 min, English, from Youtube, great travelogue about Bozen (Bolzano)