The island of Isola Bella in Lake Maggiore is the best known and most visited island in the lake. Every day in the season, streams of tourists come to the small inland island, there is a lot to see. Most tourists also visit two other islands in one day (Isola Superiore and Isola Madre) on passenger boats from Stresa. Boats take passengers from island to island every 30 minutes. You can stay on each island as long as you like. The boats run daily from about 8:30 am to 6 pm.

Most day trippers visit Isola Madre first, then Isola Superiore and then Isola Bella (translated: Beautiful Island) at the end in a round trip of the ferries. Isola Bella is the highlight of the day's excursion. On Isola Madre there is mainly a botanical garden, on Isola Superiore there are restaurants and shops. On the island Isola Bella there is all this.
All our articles about Lake Maggiore
Lago Maggiore: Our main article about the lake
3 Boromean Islands: The archipelago, which is visited by a lot of tourists
Island Madre: Island with great botanical garden
Island Bella: The most visited island
Island Pescatori: Island with houses and many restaurants
Town Verbania: The largest city on the lake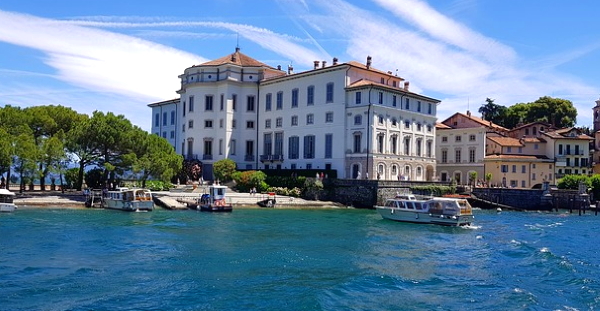 The boats stop in the north of the island. After landing, you stand in front of the large palace Palazzo Borromeo (see picture). If you walk around the palace on the left, you come to the famous botanical garden of Isola Bella. If you walk around the palace to the right, you will come to other old buildings, shops and restaurants.
The botanical garden "Giardino dell' Isola Bella" costs admission. With the ticket you can also visit the Borromeo Palace from the inside. Adults pay 18 euros. Since Corona, there are access restrictions. You need vaccination, convalescence or a test (3G).
The palace and garden are mainly in the Baroque style. Everything is beautiful. The botanical garden on Isola Bella is even more beautiful than the gardens on Isola Madre and the garden of Villa Taranto in Verbania. We especially liked the Giardino d'Amore love garden. The mammoth leaf with 2-metre leaves is also a highlight. Likewise, for Central Europeans, the many citrus fruits such as lemons, oranges and grapefruit on the tree. There is a small hill. From the top you can see the surroundings and much of lake Lago Maggiore.
If you walk around the palace to the right, you can see old cannons that were used to defend the island in the past. There are many restaurants and small shops.