With an area of 146 km², Lake Como is the third largest lake in Italy. Only two neighbouring lakes in Upper Italy are slightly larger: Lake Garda and Lake Maggiore.
Lake Como lies south of the Alps. The climate is already quite warm. Typical Mediterranean plants like palm trees and lemons grow here. The lake at the foot of the Alps is only 197 metres above sea level. The body of water is very popular with tourists from German-speaking countries, the border with Switzerland is only a few kilometres away. The climate is Mediterranean, warm and pleasant.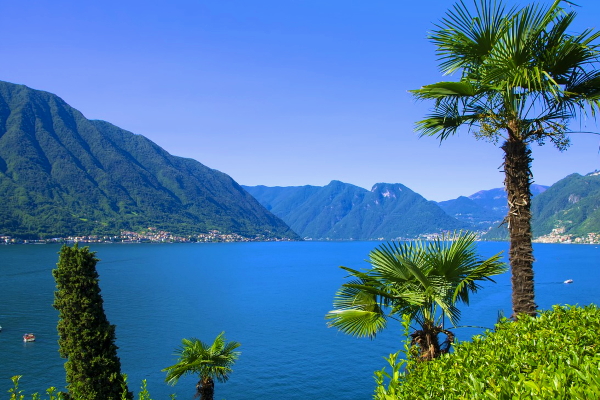 In Italy, Lake Como is called "Lago di Como", in nearby Switzerland it is spelled Comersee. More rarely, the body of water is also called Chumer See in German. Lake Como is located entirely in the Lombardy region of Italy.
There are many beautiful villages and small towns around Lake Como. The largest city is Como in the south of the lake.
---
Our tip:
Day trips to Lake Como
Very many holidaymakers take a trip to Lake Como, especially from Milan. There are several providers. Below are some recommendable day tours with very good reviews from participants:
>>> Very good tour from Milan to Lake Como: Click here
>>> Great tour from Milan to Lake Como and Lugano (Switzerland): Click here
>>> Great tour by e-bike (electric bike) Lake Como: Click here
---
The lake has a very unusual shape consisting of three elongated lake parts. There is only one island in Lake Como. It is the approximately 500-metre-long island Isola Comacina in the south-western part. Due to the strange shape of the lake (roughly an upside-down Y), the circumference is very large. You drive 170 km along the shore if you want to go around Lake Como once. No other lake in Italy has such a large circumference or such a long shore.
There are passenger boats on the lake, mainly for tourists. However, there are also frequent car ferries; crossing the lake by boat in the middle is a great shortcut, otherwise you would have to take a 50 or 100 km diversions.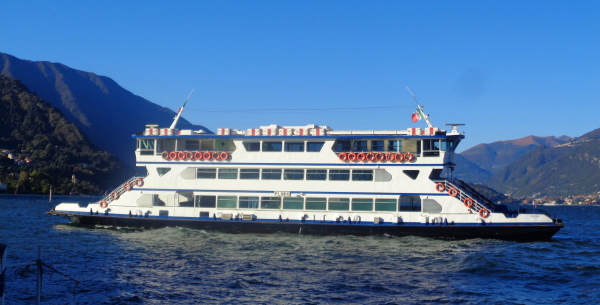 Other ferries, mostly for passengers only, travel all over the lake between the larger towns. This is ideal for tourists who want to see different villages and towns on Lake Como. Popular destinations by boat include Bellagio and Varenna.
 New: eSIM for travelers – Fast and cheap online with your cell phone in Italy
In the past you had to buy a sim card after your arrival in Italy to go online with your cell phone. These times are over. You can buy a new eSim beforehand on the Internet. Cheap packages for day, week and month with many gigabytes.
                   >>>>>  More info and booking
By train, you can quickly reach Como on the southern shore of Lake Como from Milan and Monza, as well as the eastern shore, for example Lecco and Varenna. Other places such as Bellagio can often be reached by public bus from Como.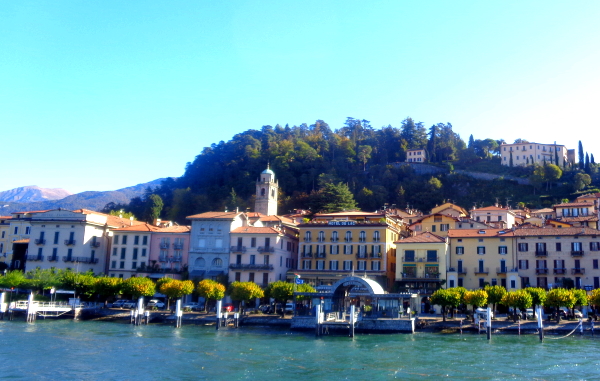 The area became rich many hundreds of years ago with the breeding of silkworms and the production of silk. Silk is still an important economic sector today. More important now, however, is tourism. Many water sports enthusiasts also come.