Bologna is a large city in northern Italy with just under 400,000 inhabitants, of whom almost 100,000 are students in the university city. The city is home to the oldest university in Europe. It is the capital of the large Italian region of Emilia-Romagna. Bologna has a beautiful old town. The old residential towers and the beautiful arcades in Bologna are also famous. Spaghetti Bolognese is famous worldwide, and tortellini was also invented here.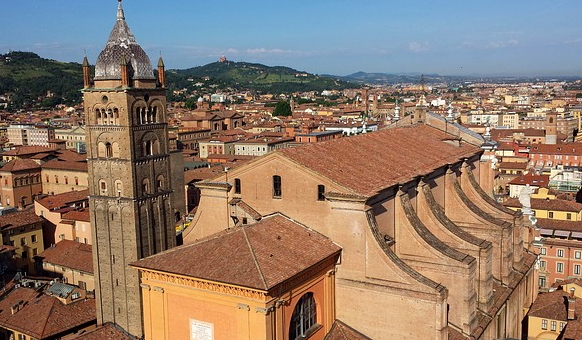 Places of interest Bologna
The beautiful central square in Bologna is Piazza Maggiore. Here is the famous church Basilica San Petronio and the palace Palazzo d'Accursio, the city's town hall. Famous is the Fountain of Neptune, one of the most famous fountains in Italy. The Neptune Fountain is from the Renaissance (16th century) by the artist Giambologna.
---
Best guided tour of Bologna: We took a tour of downtown Bologna with a local guide and loved it:  >>>  More info, prices, booking.
---
Bologna is famous for towers from the Middle Ages, about a dozen still stand. The most famous residential tower is the Asinelli Tower. The tower is leaning and much higher than the famous Leaning Tower of Pisa. As a visitor to the city, you can climb the tower, which is about 100 metres high, and from the top you have a magnificent view over the whole of Bologna.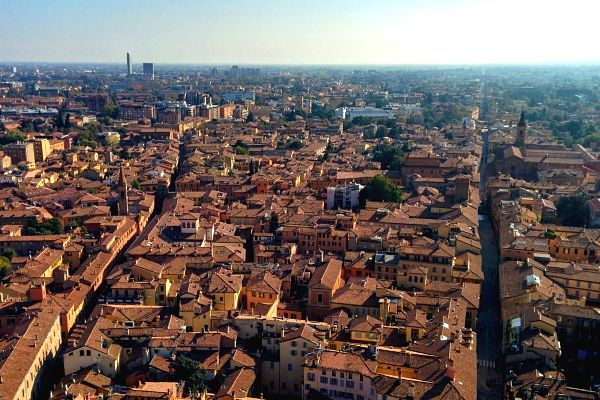 View of Bologna from the Asinelli Tower
Bologna is also known for its arcades for pedestrians. The architecture of the covered pavements is very different and interesting. There are often small shops and restaurants in the arcades. There are said to be arcades of a total length of 40 kilometres in Bologna.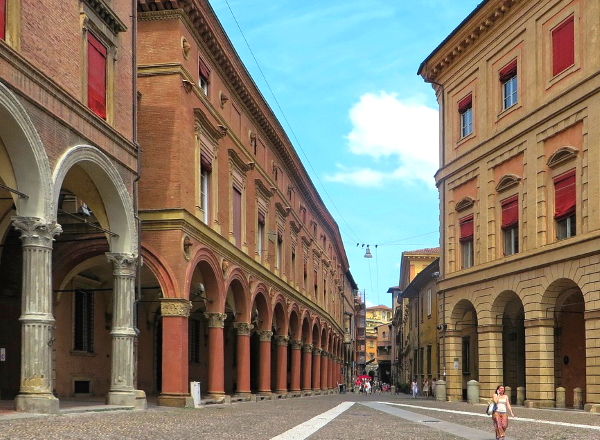 Of course, you should also try pasta Bolognese in Bologna. However, the well-known minced meat sauce is called "Al Ragu" in Bologna. Tortellini are also a Bolognese invention.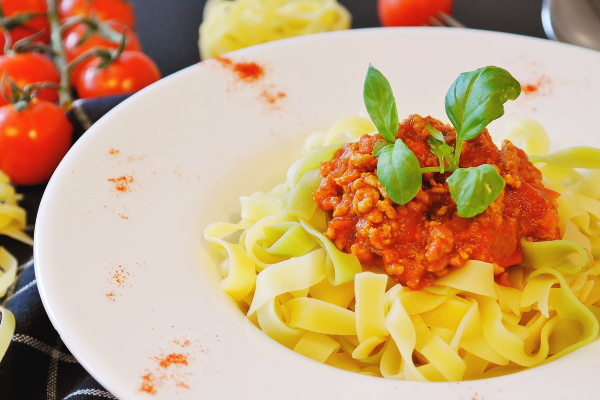 In Bologna, you should definitely order handmade tortellini and original pasta with Bolognese sauce in a small taverna. Both dishes really taste better here than anywhere else.
---
Culinary tour of Bologna: Great insider food tour in Bologna with visits to various taverns, shops etc.. It's all about pasta, vinegar, ice cream and much more: >>> More info, prices, booking.
---
How to get to Bologna
Bologna is well connected to the motorway network of Italy. From the border with Austria it is about 350 km to Bologna. There are motorways from Bologna to Verona and on to the Brenne to Austria and Munich, to the Adriatic Sea such as to Rimini, south to Florence and on to Rome as well as to Milan.
Bologna's medium-sized airport is a few kilometres north of the city.
By train, you can reach Bologna with super-fast trains from Turin and Milan, and in the other direction the Eurostar trains race on to Florence, Rome and Naples. There are also fast trains to Verona, Venice and the Adriatic (Rimini and on to Bari).