The island of Isola Superiore (Upper Island) in Lake Maggiore in Italy is one of the three Borromean Islands in the lake that can be visited by tourists. Most holidaymakers make a day trip to all three islands. Boats take visitors from island to island every 30 minutes. >>> More information about the ferries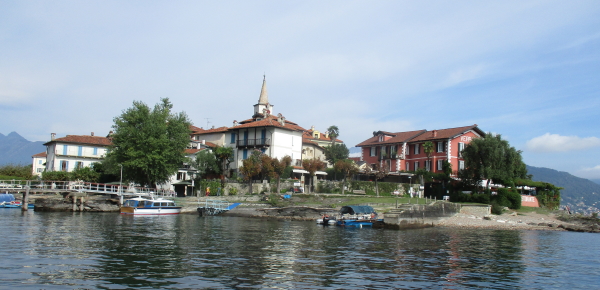 Almost all visitors take the usual circuit and visit Isola Superiore as the second island after Isola Madre. What a difference! While Isola Madre is 80 % green and covered by a botanical garden, Isola Superiore is almost completely built-up. There is an alley along the sea and an alley in the interior of the island.
All our articles about Lake Maggiore
Lago Maggiore: Our main article about the lake
3 Boromean Islands: The archipelago, which is visited by a lot of tourists
Island Madre: Island with great botanical garden
Island Bella: The most visited island
Island Pescatori: Island with houses and many restaurants
Town Verbania: The largest city on the lake
The island has two names, both used about equally. Isola Superiore (Upper Island) and Isola dei Pescatori (Fisherman's Island). Upper Island probably because it is the northernmost of the Barromean Islands. Fishermen's Island because there used to be many fishermen here.
In any case, there are still some fish restaurants today that also serve fish and seafood from Lake Maggiore. In total, there are about a dozen restaurants on the small island, including some pizzerias. In the alley in the interior of the island there is a shop that offers single, delicious pieces of pizza for about 4 euros (Pizza al Taglio Take Away).
There are also a few shops offering goods to visitors such as handbags, clothes, souvenirs, jewellery, etc. There is also a small supermarket (minimarket) on the island of Isola dei Pescatori or Isola Superiore.
In the alley in the interior of the island, you feel like you are in a small pedestrian zone of an old town on the mainland. You go shopping and stop at one of the inns. Isola Superiore is somewhat smaller than the other two visitable Barromean islands. If you walk through without stopping, you will have seen everything in 10 to 15 minutes. There are no cars or other vehicles, as on the other Borromean islands.
Isola Isola Superiore is also the Borromean island with the most inhabitants. More than 50 people currently live permanently on the island in Lake Maggiore. On the well-known Isola Bella there are about 35 inhabitants, the others have less than 5 inhabitants or are uninhabited.