Como is a city in the north of Italy in the province of Lombardy. It is the largest city at Lake Como with 85,000 inhabitants. The city borders on Switzerland (Canton Ticino). Milan is only about 50 kilometres away.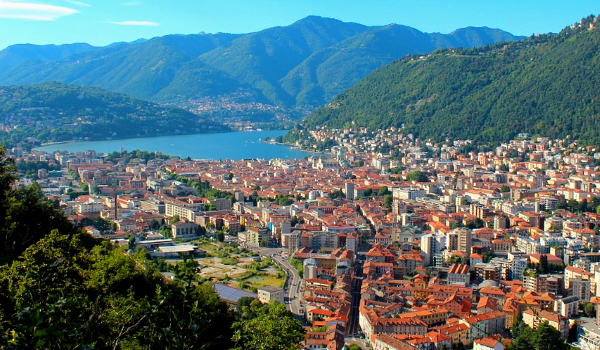 Como lies at the foot of the Alps, only 200 metres above sea level. The climate is mildly Mediterranean. There are palm and citrus trees in the area.
Orientation Como
From our point of view, the centre of the city is on the shore of Lake Como. This is where the ferries dock. Opposite is a large square called Piazza Cavour, the most famous square in the centre of Como. From here a long pedestrian street leads away from the lake. In and around this car-free street are many shops and cafés. After a few hundred metres, on the left, you will see the Cathedral of Como, whose long official name is: Cattedrale di Santa Maria Assunta-Duomo di Como. The cathedral is the most famous building in Como, almost all tourists visit the cathedral.
Como's train station is called "Como S. Giovanni" and is about 500 metres west of the city centre on a small hill. It takes 5 minutes by train from Como to Chiasso in Switzerland, the hourly regional trains to Milan take about 45 minutes. There is also a suburban train to Milan, this stops at every station and takes over 1 hour.
Places of interest Como
The city has a beautiful old town. Besides the cathedral, there are many other houses worth seeing. Not to be missed in the city centre is the former courthouse Palazzo del Broletto. The Como Silk Museum is worth a visit. Silk has been an important industry in the region for more than 500 years.
You can often get to the central and northern parts of Lake Como by ferry from Como. Como lies directly on one of the two southern tips of the long lake. Most tourists travel by boat to Bellagio or Varenna (journey time 1-2 hours).
---
Our tip:
Day trips to Lake Como
Very many holidaymakers take a trip to Lake Como, especially from Milan. There are several providers. Below are some recommendable day tours with very good reviews from participants:
>>> Very good tour from Milan to Lake Como: Click here
>>> Great tour from Milan to Lake Como and Lugano (Switzerland): Click here
>>> Great tour by e-bike (electric bike) Lake Como: Click here
---
Excursions from Como
There are also buses to Bellagio (only a few euros). The ferry, on the other hand, costs 14.50 one-way (express boats). You can take the ferry on Lake Como in one direction and the cheap bus in the other. There is no bus from Varenna to Como. We took the train from Varenna to Monza and then another regional train to Como. Monza is also worth seeing (for 1-2 hours). Our suggestion: In the morning by ferry on Lake Como from Como to Bellagio. 1-2 hours later by car ferry to Varenna. Then by train to Monza, 2 hours to see Monza. In the late afternoon by train back to Como. All tickets together just under 30 euros, you see a lot in one day.
Other day trips are by train to Milan or to Switzerland, for example to Lugano.