Desenzano del Garda (also known simply as Desenzano) is the largest town on Lake Garda with about 25,000 inhabitants. The town lies on the south-west shore of Italy's largest lake. Desenzano del Garda has a beautiful old town directly on the shore and a great harbour with promenade to offer visitors. However, the town is by far not as touristy and overcrowded as some other towns on Lake Garda, such as neighbouring Sirmione.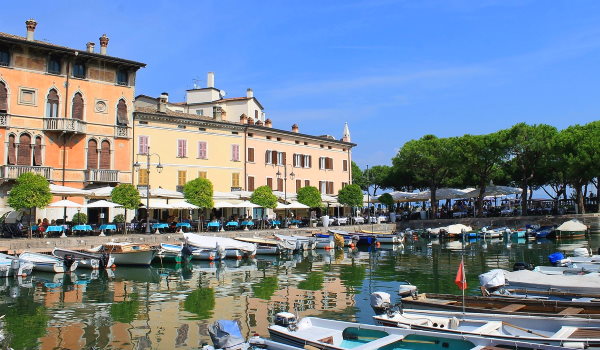 In the small old town behind the waterfront you will find many restaurants and street cafés. A large part of this area of the city is pedestrianised. Most tourists are found here. Narrow streets and colourful houses. The Duomo of Desenzano del Garda is also worth a visit.
Gardaland – the most famous amusement park of Italy
On the southern shores of Lake Garda is one of the best and largest amusement parks in Europe. Over 30 rides, sharks and much, much more. Tickets should be purchased in advance on the Internet. The rush is great. On the well-known website Getyourguide there are various tickets:
Tickets and information Gardaland without aquarium:  Click here
Tickets and information Gardaland without aquarium:  Click here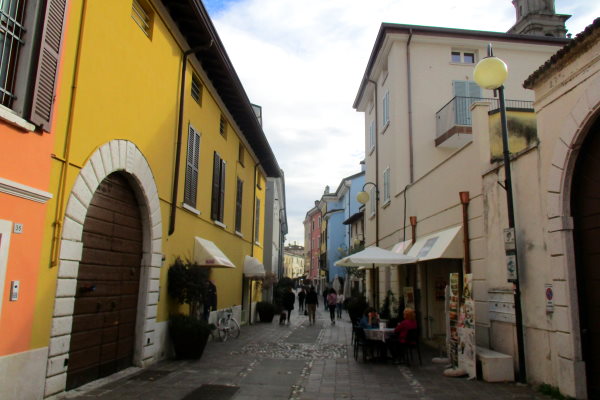 Directly on the shore of Lago di Garda (Lake Garda) is a wide promenade in the city centre. The large harbour with yachts and ferries to other places on the largest lake in Italy also invites you to take a walk.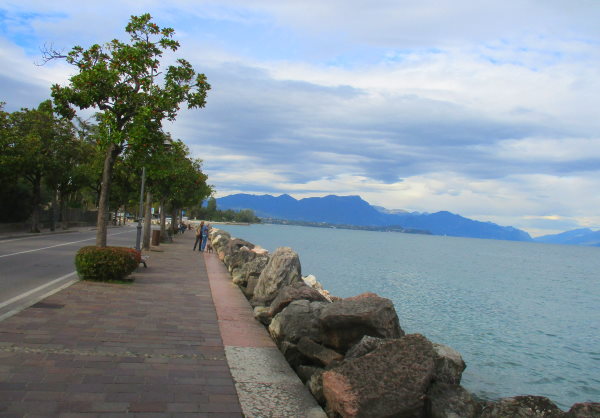 A great photo motif is a large red heart almost directly on the shore. Lovers stand in the heart and have their picture taken.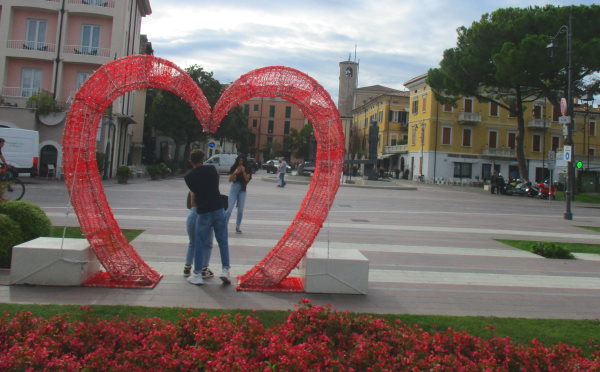 Across the road on the shore in the centre of Desenzano is an inland port (Old Port) connected to Lake Garda by a canal under a bridge. There are several restaurants around the inland harbour. Here you can sit nicely and quietly and enjoy the day.
Desenzano del Garda is also much cheaper than the big tourist resorts on Lake Garda. This applies to hotels and restaurants. Not everything here is geared towards tourists.
You can park in some car parks right next to the old town. We paid (in September 2022) 2.20 euros per hour for parking. There is also a train station in Desenzano del Garda with frequent connections to Verona and Milan. Ferries connect Desenzano with other major towns around Lake Garda.
Gardaland amusement park: The largest amusement park in Italy is in the south of Lake Garda near the town of Peschiera del Garda. There are over 30 rides in the Gardaland amusement park (from the areas such as adrenaline, adventure, fantasy), musical, circus and much more, there is something for everyone. You should definitely plan for the whole day. In our opinion, Gardaland is one of the best amusement parks in Europe. For children and adults. Tickets should be bought online in advance. More information and tickets can be found on this website.
Our other articules Lake Garda